1st Danish International Conference on Personalised Medicine – 24.-25 oktober 2023 Moesgaard Museumalle nyheder
af Gitte Bramstorp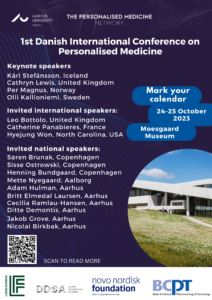 JOIN THE FIRST INTERNATIONAL CONFERENCE ON PERSONALISED MEDICINE IN DENMARK
Meet some of the world's most prominent profiles within the field of personalised medicine when The Personalised Medicine Network invites you to attend the "1st Danish International Conference on Personalised Medicine".
The event will span the immense range of the research field and bring together leading experts from both Danish and international research groups.
🗓️ Time: 24th – 25th of October, 2023
🏢 Place: Moesgaard Museum, Aarhus, Denmark
🪙 Price: Only DKK 350 (~ 47€) for the full two-day conference!
👉 Learn more and register for the conference here: https://lnkd.in/eW_aycjt
Keynote speakers
⭐️     Kari Stefansson CEO, deCODE genetics
⭐️    Cathryn Lewis, professor, King's College London
⭐️    Per Magnus, centre director, Norwegian Institute of Public Health
⭐️    Olli Kallioniemi, professor, Karolinska Institutet
#healthAU #Personalisedmedicine #conference
Don´t forget to register yourself at https://events.au.dk/1stdanishinternationalpmconference/signup
Registration deadline is 1 October, 2023.